Pool & Spa News Online - Coverups Lowering the Skimmer

Going Underground
How to keep extensive automation wiring under control.
By Paul Benedetti September 2002
Special to Pool & Spa News
---

utomation is a lovely thing. It's also a wiry thing.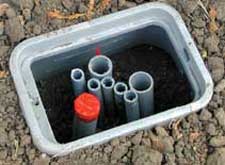 Pull boxes, such as this one, offer a simple and unobtrusive method for dealing with extensive automation wiring.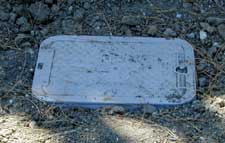 With large estates, in particular, hooking up an in-home controller to everything from fountains to landscape lighting can require unfathomable amounts of wire.
On one recent project, says Paul Benedetti, president of Aquatic Technology Pool & Spa in Morgan Hill, Calif., "There's about a half-mile of conduit, and it goes everywhere."
Benedetti explains that on complex projects, his crews keep the wiring manageable and out of sight by hiding it in the underground conduit. Occasionally, they break the wiring up with pull boxes (miniature plastic underground utility vaults) rather than junction boxes mounted to a wall aboveground. That way, all you see is a bit of conduit leaving the controller before it heads underground.
Pull boxes work almost like subway stations: Some wires will move out of the loop to, say, a cluster of landscape lights, while the rest will continue moving on to their final destinations.
The boxes basically provide a place from which to pull the wires as they move closer to their destination.
"If you had 300 feet of conduit underground, you wouldn't be able to pull the wire through that conduit because there's so much friction against the sides of the inside of the pipe," Benedetti says.
His workers place the boxes in a yard's perimeter, spacing them about 100 feet apart, in adherence with the National Electrical Code. Benedetti also specifies a pull box or two on the very outside of the hardscape in case the customers later decide to add more lighting or another device that requires power.
High-voltage and low-voltage wiring cannot be mixed in the boxes, so he sometimes ends up with clusters of boxes in hidden areas to accommodate both types of power. The crews also lay a mule tape through the conduit. This woven nylon ribbon contains measurement markings all along it. It can serve two purposes if future wiring is required: measuring the length of wire needed, and pulling it through the conduit.
Automation Tip
You can help clients get the most out of their controllers by hooking them up to the landscape lighting, Benedetti says.
In the case of low-voltage lighting, you need to remove the time clock at each transformer. Each transformer, in turn, is hard-wired to a controller's relay.
Clients now can control their accent and safety lighting from their home or telephone, rather than changing the settings on individual transformer time clocks.
This comes in handy when parties will run late, or the homeowner or their children will arrive after the lights normally shut off. It also keeps the lighting on schedule in the event of a power outage because many automated controls have a battery backup. They also are protected against damaging power surges by the controller's optional surge protection.
---
Paul Benedetti is vice president of Aquatic Technology Pool & Spa in Morgan Hill, Calif. The former service technician now specializes in the design and construction of high-end aquascapes. He has taught courses about intricate aquascape design and is an associate member of Genesis 3. Benedetti is a subject-matter expert for the state of California and assisted in writing California's most recent pool contractor's examination.
© 2002, Pool & Spa News