Artistic Pool & Fountain Design Philosophy
The passion that I have for a project is directly related to the value that the client places upon the design. Together, we can excel in the execution of the design, truly "Creating water as Art."™
During the conceptual design development phase, I will spend a significant amount of time with you getting to know you, your lifestyle & goals . . . your desires & pleasures. This intimate knowledge allows me to create a work of art that will evolve with your changing lifestyle - one you simply "will not outgrow." It is my intention that each design element performs multiple functions, thereby increasing the overall value of the design - the TRUE definition of "value engineering."
After you approve the project layout, I can create a measured perspective drawing of your project, color rendered with markers. This is done freehand to help you visualize your project - not some sterile pool draw or sketch-up software!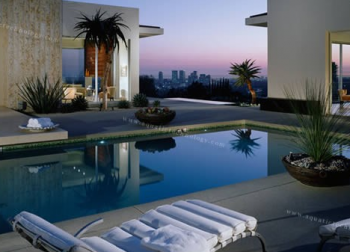 As an aquatic artist, I work with a still, quiet & colorless medium, blending colors & form to create a scene that invokes movement, reflection or sound. Drawing on my vast knowledge of materials, studies of architecture, art, history, design, color theory, and international travels, I blend these textures and colors to create an outdoor environment that will meld seamlessly with your sites' architecture. My goal is to ensure that whatever I design looks like it "belongs" . . . as if the scene would be missing something if it were not there.
During the construction or "build-out" phase, my personal & constant supervision of the process ensures that the design is executed to perfection. I will reward you with a project that will exceed your wildest expectation, in style, form and function. I will give you one of my works of art, "leaving behind a part of myself." It is no wonder that many of my return clients just "turn me loose."
Annually I create or consult on approximately 40 designs, sometimes working on design teams comprised of internationally renowned architects, landscape architects and even other pool builders.
So, if it is your desire to create a thoughtful integrated design that will be flawlessly executed, then please contact me for an appointment.