Options for Today's Fine Homes - Bringing the Bellagio to the Backyard

SUMMER 2004 — outdoor options
---
Bringing the Bellagio to the Backyard
For high-end pools and spas, it's all about the waterworks.
By Kim Singletary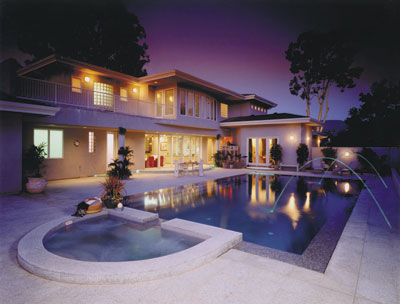 Aquatic Technology Pool & Spa works with clients worldwide to create dazzling water features that include fiberoptic lighting, integrated pool and home automation and cutting-edge pool design. For more information, visit www.aquatictechnology.com.
In ancient Roman times, only the top echelon of the wealthy could afford to have their own pools — leaving the upper middle class relegated to public pools. Today things have certainly changed. With pools now commonplace in a range of economic classes, high-end homeowners want more: They want something that takes their home to the next level — the level of a five-star resort.
"My clientele base is mostly the Fortune 400 crowd," says Paul Benedetti, vice president of operations for Aquatic Technology Pool & Spa, a company based out of California with clients worldwide. "When they come to me, most of their ideas are from their travels, from the resorts where they've stayed. I had one client return from the Grand Wailea Resort Hotel and Spa in Maui, Hawaii, determined to have an all-tile pool just like what he had seen."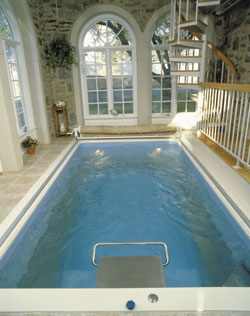 Endless Pools™ offers homeowners the chance to get in a nice long swim in an eight-foot by 15-foot space thanks to a smooth, adjustable current. For more information, visit www.endlesspools.com.
Pool designs such as custom shapes, infinity edge pools and flooded deck pools are borrowed from resorts, as well as animated fountains that squirt from the outer deck into the pool.
"These are really incredible," Benedetti says. "They're mounted in the pool deck and we can use fiberoptic lights, or even tie them into a computer to make them leap. We can even make it so the homeowner can download music into the system and the fountains will dance to the music."
Integrating pool automation with home automation is also a way to dazzle visitors. Professionals can use DMX lighting, like that used for home theaters, and bring it out into the yard, projecting images onto fog for unbeatable visual effects.
A few other fun options include decks with small water features squirting out intermittently. "Not only is this a safe option for kids to enjoy water without being in a pool, but it also offers a very artistic addition to a backyard," Benedetti says.
Benedetti also adds that while Europeans tend to be more concerned about materials, Americans are largely more interested in the underlying quality of features and mechanics.
Bigger isn't always better
According to Jim Milligan, president of Nespa Tiled Spas, a manufacturer who distributes nationwide, as the trend moves toward bigger houses and smaller yards, spas provide the perfect water amenity. And for these spas, material choices tend to lean toward earthy looks, like Tuscan materials and tumbled stone. "We're really getting away from the contemporary materials and moving toward glass tiled spas. The effervescent tiles are especially popular because they look so incredible under water."
Nespa Tiled spas builds custom creations, enabling them to build the perfect size to accommodate clients of every shape and size. Spa shells are also lightweight fiberglass, making them a perfect choice for highrises.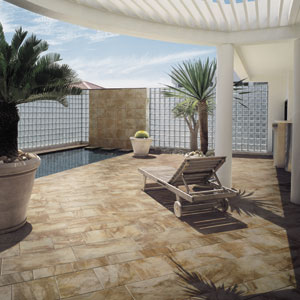 National Pool Tile Group offers the largest selection of quality pool and spa tile and stone in the nation. For more information, visit www.nptgonline.com.
The ultimate workout space
For homeowners who desire something larger than a spa, but smaller than a full-sized pool, Endless Pools™ provides the perfect home option, indoors or out. Requiring a space of just eight-feet by 15 feet, these pools feature a smooth, fully adjustable current for an effective workout. Standard kits start around $18,000, but the pools also offer a host of fun options like underwater lighting, hydrotherapy jets and even underwater mirrors and underwater cameras for swimmers determined to improve their stroke.
Outdoor floors and ceilings
The complete outdoor environment must also provide shade from summer rays, and Amerimax Building Products Inc. provides the perfect solution. The company's Alumawood™ shade structures provide the appearance of wood, without the maintenance, termites, rotting, warping, peeling or cracking. Available in a textured grain finish and five different colors, they complement any yard. For additional information, visit www.amerimaxbp.com.
And for existing homes ready to trade in cracked concrete for a wood deck, MP Global Products offers KwikDek™, interlocking squares of high-quality pretreated Asian hardwood available in four styles. The decking pieces snap together, creating a finished deck in just a few hours. The decking is perfect for hot top pads and pool surrounds. For additional information, visit www.midwestpadding.com.
So what's the secret of a really dynamic backyard?
The answer is really a combination of two things. The first is creating a cohesive look with the home. "The pool, the decking, the home, everything should blend together," says Ron Coker Sr., president and CEO of Artistic Pools Inc., a company distinguished as one of only 90 Master Pool Builders in the nation. "The pool should not look like an afterthought." And for Benedetti, the "wow" factor is key. "People want the features that make other people say, ÔHow did they do that?'"
---
Kim Singletary is a freelance editor for OPTIONS for Today's Fine Homes magazine. She may be reached via e-mail at kim@optionsmag.com.