Make the most of your backyard at night: Add path lighting, fire features, and more
By Paolo Benedetti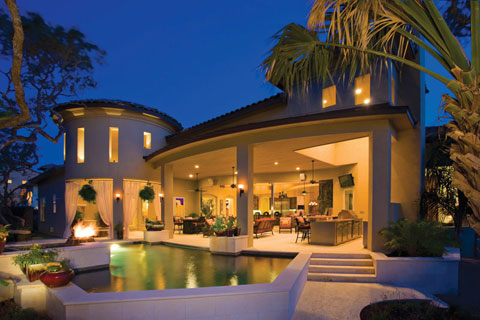 With today's busy lifestyles, an increasing number of homeowners want to enjoy their outdoor living environments every minute of the day-even after dusk. This means that pool designers and landscape architects have to consider a multitude of factors that only occur after dark, including safety considerations, the desired nighttime mood, and how to keep comfortable through weather and temperature changes. With proper lighting, heating, and a fire feature or two, your poolscape can achieve a dramatic look while providing a cozy, people-friendly environment.
Safety First: Path and Step Lighting
A setting changes dramatically after dark as the backgrounds and foregrounds blur together, fooling the eye into believing that shadows are real and real objects are not. Since most pool guests have to walk down a path to get to the pool, the outdoor kitchen, or the conversation zone, the path needs to be safely lit for nighttime strolling.
Historically, landscape lighting is used to uplight specimen plants and to saturate pathways with light. However, these effects can generate hot spots, directing the light into the viewer's eyes. Instead of illuminating every square inch of a path with lighting, there should be subtle areas of light, illuminating the pathway in pockets. Someone walking along a path toward the pool or outdoor kitchen will instinctively know how to proceed because the human mind naturally "fills in" the dark areas, prompting the walker's next step.
To make pathway lighting seem more natural, paths should also be softly illuminated from above. The lighting should be placed where the viewer can see the effect of the lighting, but not the source. Small low-voltage spotlights, hanging fixtures, or directional baffles can direct the light exactly where it is required. Raising the path lighting overhead makes it seem natural to the viewer. The goal is to reduce the number of lighting fixtures that are below the viewer's eye level. Ground-level fixtures are the victims of constant damage from landscape maintenance activities, broken wires, and corrosion from irrigation watering and snow. During the day, they can be unsightly and visually obtrusive.
Since many luxury poolscapes are multilevel, stairs are another consideration. Before installing step lighting, it's important to note which methods are ineffective and should be avoided: Wide steps will not benefit from niche lights (such as those found in a movie theater) or path lights along the sides. Lighting in the face of the risers does nothing to illuminate the stairs because as family members or guests approach a large flight of stairs, all they will see is a series of aircraft landing lights up the center of the staircase, shining directly into their eyes. Fixtures that are embedded in the concrete are also difficult to maintain, repair, or replace. Plus, during the day, they visually mar the beauty of the hardscape.
The best way to illuminate stairs and elevation changes is from above, but when this becomes a challenge, there are a few other options. For instance, low-voltage rope lighting can be recessed into the underside of hand railings or the overhang of a stair tread. A soft subtle glow across the staircase now welcomes travelers instead of shining a spotlight in their eyes. Most rope lighting is designed so that if one bulb burns out, the balance of the lights will remain lit. This approach also reduces the reoccurring maintenance expense of a landscape lighting system.
In-pool Lighting
The type of lighting used inside of a pool is mostly affected by the color of the interior finish material. A white plaster pool will reflect light around the inside of the pool, while a dark black plaster pool will absorb the light. This is based upon physics, so we have to work as best we can to overcome this phenomenon. For those trying to create the "bling-bling" of a Las Vegas casino pool, the installation of colored lighting effects works best in a white or light colored pool. Colored lighting effects are a waste of money in a dark colored pool, as the pool will not glow with color. Even white lighting in a dark colored pool loses its effectiveness.
To create a scene with even illumination, multiple lighting fixtures must be employed within a pool. To avoid creating a truck headlamp effect, they should be directed away from the primary vantage point. One of my favorite visual effects is to keep the pool itself completely dark at night. This creates a reflective surface, one that will mirror the surroundings on the surface of the water. By orchestrating the landscape lighting, such that a key element of the landscape near the pool is properly lit, that element's reflection will be cast upon the pool's glass-like surface. The effect is stunning and can be done with buildings, trees, statuary, and even art sculptures.
Fire Features and Fireplaces
Once all of the electrical lighting effects are planned and safety features are in place, your designer may suggest additional amenities such as a fire feature or fireplace that will take a poolscape to the next level of drama. The reflection of an open fire on the surface of the water can be quite mesmerizing.
Fire features range from the simple addition of candles throughout the venue to the more exotic choices of flame bars, fire bowls, fire and water bowls, and gel burners. Each type offers its own charm, and each has the ability to transform a nighttime soiree into an unforgettable experience.
New technologies and offerings in fire features allow the placement of fire elements in areas where gas plumbing is not convenient or installed. Either gelatin fuels or propane cylinders fuel these new offerings. Due to their portability they also can be moved around to create a dynamic scene or stored away for the winter months.
A flame bar is a type of elongated fire feature that is built into a decorative case and primarily fueled by natural gas or propane. While it is an unusual choice for most homeowners, it's ideal for a sleek, contemporary setting. Fire bowls or woks are more commonly used, but are far from ordinary. When lit, they transport viewers to another place and time. Used with water, these features give the setting a yin yang vibe. Gel burners are becoming more popular and can be used on a tabletop as a substitute for a candle, as a heating unit, or to add another dimension of light to sculptures or other pool art.
Overhead Lights, Shade, and Heating
Being outdoors at night also requires lighting for entertaining and cooking. A large high-pressure sodium floodlight atop a chimney can illuminate the whole backyard for lawn games or huge parties. A narrow spotlight on a barbecue can ensure that sizzling steaks are cooked to perfection. Overhead light fixtures with interior baffles can direct light onto a patio, while controlling glare from the surrounding areas. Another benefit of placing fixtures overhead and as high as possible is that insects are drawn away from the entertaining and cooking areas.
Designers can ensure that the outdoor party does not come to a screeching halt due to a cool breeze. Site conditions and weather patterns-such as the location of the setting sun, an evening fog or marine layer, and the prevailing wind direction-must be considered when designing an outdoor environment. Architectural elements such as trees, walls, structures, and windbreaks can be incorporated into the design to shelter guests from the elements.
Outdoor sources of warmth can also be included in the design. Portable propane or natural gas area heaters can be utilized to heat areas where people gather. Natural gas heaters can be hard plumbed directly to the gas line, or quick disconnect connections can be installed in various locations to allow for easy relocation of the fixtures. Heating fixtures can also be covertly installed overhead in shade, in patio structures, or under overhanging eaves. Electric quartz heater technology has made major advancements during the past decade. Quartz heaters have a major benefit over gas heaters in that they heat objects and people rather than the surrounding air. They can also be used in enclosed areas, such as screened rooms or gazebos, without the need for ventilation.
A fireplace is a great night lighting option because it always does double duty: it warms the body and the soul. A fireplace with a formal seating arrangement can be cozy and welcoming to guests after a night swim. A fireplace can burn gas or wood logs, but faux logs, lava rocks, special colored crushed glass, and even iron cannonballs can also be used in a gas fireplace. Keep in mind, however, that many communities around the world have banned wood-burning fireplaces, so a homeowner should check local ordinances before settling on a natural wood fireplace.
Another option is the primeval wood-burning firepit. Resembling a campfire, these fire elements offer a rustic back-to-nature element. They can be used to warm chilled swimmers while melting chocolate and marshmallows for s'mores. Fireplace chimneys need to be tall enough to ensure that the smoke is directed away from the residence, neighbors, open windows, and living areas.
Nighttime is often the best time to enjoy a backyard poolscape. When organized and implemented properly, the use of lights and fire can magically transform an outdoor setting into a nighttime dream. True designers know the ins and outs of what works and what does not. They can help you decide on ways to get the best of two worlds-one during the day and a more exotic one at night.
Photo courtesy of Keith Zars Pools
Outdoor Kitchen and Dining Area
Lighting is the first thing you need to consider if you want to host nighttime dinner parties in your outdoor dining area. It is important to have well-lit cook stations, including around the grill and the stovetop, to ensure the safety of the chef and the guests. But, that doesn't mean the entire space has to be intensely illuminated. The dining area, as well as any conversation settings, should be softly lit, creating an inviting atmosphere. Paths and steps leading to the kitchen should be bright enough to allow your guests to travel safely from the pool to the dinner table, but not so garish as to break the amiable mood people are enjoying.
Once the kitchen is designed and the lighting plans are approved, installation of the electrical service is the next step, and in this case, easy is best. A tripped GFI outlet behind the refrigerator is virtually impossible to reset, so one more GFI breaker in the home's electrical panel should be included for the entire outdoor kitchen. If the circuit is tripped, the kitchen can be reset from that panel.
Homeowners should also think about how they want to keep the kitchen cozy throughout the season as well as before and soon after the first autumn leaves begin to fall. Radiant heaters provide comfort deep into fall and allow homeowners to open kitchens earlier in the spring.
Photo courtesy of Lewis Aquatech Pools, Chantilly, Virginia