Luxury Pools, showcase for the best work of Aquatic Technology Pool & Spa

---
Proudly Presents the Work of
AQUATIC TECHNOLOGY POOL & SPA
MORGAN HILL, CALIFORNIA
---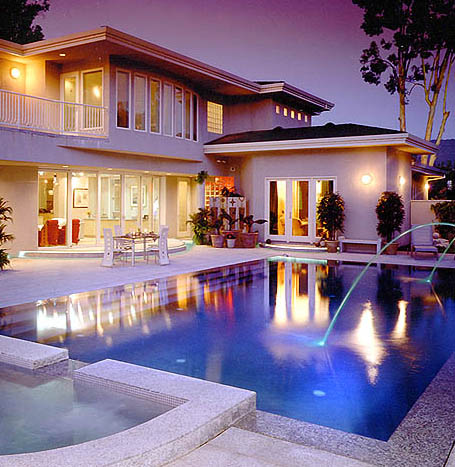 Glass mosaic tiles from Italy and fiber-optic laminar fountains that appear as arching lazerbeams accent this spectacular pool and its sleek surroundings.
Pools Extraordinaire
Crafting outdoor environs that are as structurally sound as they are beautiful, Aquatic Technology Pool & Spa captures the mood and desires of homeowners in its architecturally integrated pools and backyard retreats.
Every structure, retaining wall, surface and amenity receives the utmost attention and is matched to the property's soil, climate and environmental conditions. Structural integrity, hydraulics, plumbing and electrical systems are carefully calculated and specified for each component of the design.
Focusing on small details ensures finished-product excellence, with absolute quality from the wooden forms and support steel to the elaborate marbles, mosaics or Venetian glass. The company provides schematics and detailed drawings to avoid surprises as its projects take shape. Pool builders from around the globe have learned the finer points of pool design and construction from Aquatic Technologies' principal Paul Benedetti, who has also assisted the State of California in drafting its most recent swimming pool contractor's examination.
Property owners, architects and developers hire Aquatic Technology Pool & Spa to shepherd the pool from concept to completion, while others seek local bids based on the company's design specifications. Aquatic Technology is licensed as a general contractor as well as a swimming-pool contractor, enabling it to complete all aspects of the project, including outdoor kitchens, retaining walls, water features and pool houses.
One of the prestigious associate members of the Genesis 3 Design Group, this award-winning company displays true passion when it comes to building sound, fully-harmonized pools and unique outdoor living settings.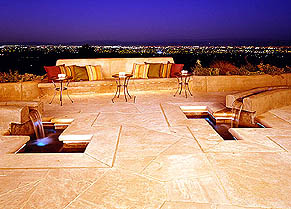 Unique water features and custom fiber optics combine with a comfortable seating area that was created so people can enjoy the breathtaking view of Silicon Valley.
Aquatic Technology Pool & Spa
PO Box 130
Morgan Hill, CA 95038-0130
408-776-8220
---
In Business for 11 Years

---
Builds 8 to 10 Projects per Year Designs 40 Pools per Year; Designs Pools for Other Builders
---
SERVICING AREA
Western US International Design and Construction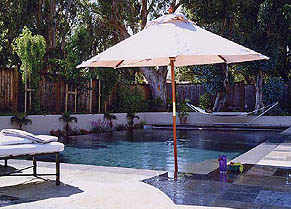 This vanishing-edge pool seems as if it flows off into the garden. An umbrella sleeve installed in the oversized top step provides a shady respite.

© Copyright Manor House Publishing. All rights reserved.