Luxury Pools, showcase for the best work of Aquatic Technology Pool & Spa

---
AQUATIC TECHNOLOGY POOL & SPA
MORGAN HILL, CALIFORNIA
---
Aquatic Architects
Aquatic Technology Pool & Spa caters to the desires of its high-end clients, including Fortune 400, celebrities and sports stars. The company deems that its outstanding waterscapes, elaborate pools, spas and backyard retreats are nothing short of its time-honored motto, Creating Water as Art.
Company principal Paul Benedetti approaches every venture with the expertise of a skilled artisan, conceiving New Age ideas that combine spectacular designs and intricate details geared precisely for a client's lifestyle. Projects begin with a commissioned design package, and the company supervises each step of construction, providing sectional drawings, material samples, mock-ups, and even scale models if desired. Benedetti thinks of each rendering as an expression of his client's wishes unfolding and taking shape, resulting in a first-class creation that commands recognition.
Concentrating on a specific element or integrating luxurious amenities, such as interactive water features and custom fiber optics, is what makes Aquatic Technology Pool & Spa continue to achieve outstanding accolades, gold awards and industry recognition. It is no surprise that ornate marbles, mosaics and Venetian glass are often used to ensure finished-product excellence.
Benedetti is proud of the fact that he is able to share his industry knowledge by writing for numerous trade publications. He admits that he is flattered when asked to "teach other pool builders how to build pools."
Aquatic Technology Pool & Spa is also a licensed general building contractor, designing, building and managing the construction of complete outdoor environments. Many projects include retaining walls, fireplaces, masonry, decks, outdoor kitchens and pool houses.
One of the prestigious associate members of the Genesis 3 Design Group, this award-winning company displays true passion when it comes to building sound, fully-harmonized outdoor and aquatic environments.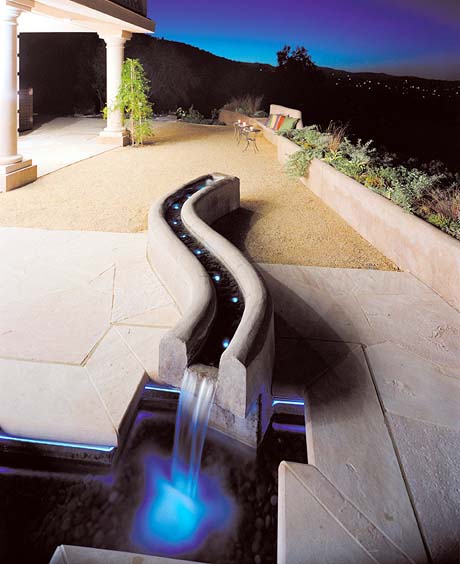 The Electric Slide. This unique water feature is a dramatic nighttime vision, thanks to vivid lighting and neutral decking. Loungers are sure to enjoy this modern piece of art on display in their own backyard.
Fiber-optic laminar water features pose as arching lazerbeams as they spring into the jade-colored pool below. Flora and fauna soften the pool's edges while a closelytrimmed hedge provides just the right amount of privacy.
Aquatic Technology Pool & Spa
PO Box 130
Morgan Hill, CA 95038-0130
408-776-8220
---
In Business for 11 Years

---
Builds 8 to 10 Projects per Year Designs 40 Pools per Year; Designs Pools for Other Builders
---
SERVICING AREA
Northern and Central California National and International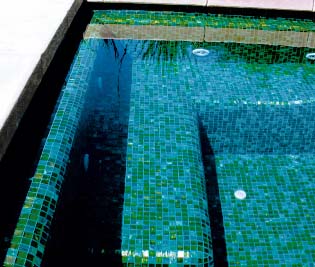 In Stile. This beautifully designed all-tile spa is more than a treat to the eye. Numerous jets and multi-leveled seating ensure that all bathers get just the massage they are looking for. They will be saying spahh in no time.

© Copyright Manor House Publishing. All rights reserved.