Luxury Pools - Chauffeur Driven Pools, Why Some Pools Cost More Than Others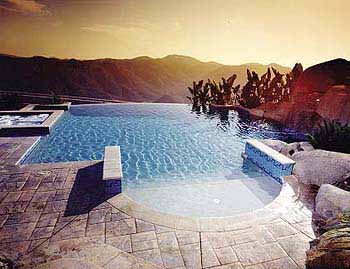 A vanishing edge that melts into the mountains and massive boulders that anchor the scene—this is what dreams are made of.
Questar Pools and Spas, Inc., Escondido, California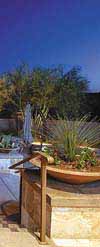 The only sound that breaks the silence of this breathtaking desert delight is the spill of water from a reverse vanishing edge and the crackling of embers from the cozy firepit. California Pools & Spas of Arizona, Mesa, Arizona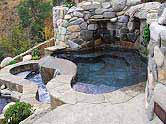 Escape to this cave-y corner hideaway. LifeScapes, Inc., Cashmere, Washington
Georgia's very own peach. Featuring several levels of enjoyment, this incredible all-inclusive beauty will have you pining for beautiful weather every day. Avalon Pools, Woodstock, Georgia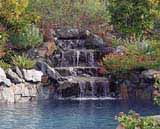 Stop to smell the flowers—and to appreciate this gorgeous rock waterfall whose soft melodic tune rivals the best of the songbirds. Riviera Pools, Danville, California
An absolute gem. This emerald-cut sapphire displays all of the characteristics of a perfect stone. Elite Concepts by Michael Nantz, Inc., Lewisville, Texas
Put your head in the clouds and float away an entire day in the waters of this inviting sanctuary. Aquatic Technology Pool & Spa, Morgan Hill, California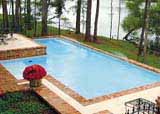 Over the river and through the woods. This geometric pool with brick coping is sure to be any family's favorite destination. Morehead Pools, Shreveport, Louisiana
Intricate tilework on the pool adds a touch of panache to a simple design, and sparkling water comes to life at the far end with a bevy of bubbling fountains. Classic Pool & Patio, Inc., Indianapolis, Indiana
A class act. This waterscape gets an A in every subject: elevated stacked stone spa, sheer descent fall, bridge, waterfall and cantilevered flagstone decking. Artistic Pools, Inc., Atlanta, Georgia
Chauffeur-
Driven Pools
Why Some Pools Cost More Than Others
BY PAOLO (PAUL) BENEDETTI
Have you ever wondered why the cost of swimming pools of comparable sizes can vary from $35,000 to $500,000? A pool is a pool is a pool, right? Wrong.

While a high price tag doesn't necessarily guarantee quality and complete customization, it does if you are dealing with a top of the line pool builder. Luxury pools, designed and built by high-end custom pool builders, cater to clientele who demand the best. Gone are the compromises that you may face when building a less costly pool. Put simply, you get what you pay for.

Before you select your pool builder, it is best to envision the type of pool that you want and to contemplate your expectations for the entire project. Do you want to be presented with definitive choices for your pool's shape, size and features, or do you want to be more involved with your pool's design? Are you in a rush to have the pool completed, or is your timeline more flexible? Are you open to the idea of a running budget, rather than a fixed price before the project begins? The answers to these questions, along with the following details of what you can expect from a high-end pool builder, will help you make the choice that is right for you.
Pricing and Project Management

Think of a first class pool builder the way you would think of a custom home builder. Because each pool is unique in design and materials, the builder takes on fewer new clients to ensure that every project takes top priority. There is usually not an established price list, but the builder can give you a range of what your vision will cost and then bring your dream pool to fruition by discussing important factors, such as your lifestyle and entertainment patterns, your taste in colors, textures and materials, the age groups of intended users, and the site's views, privacy, orientation, architecture and possible challenges. Design revisions are welcomed before the final concept is approved because the goal is to give you exactly what you want.

Depending on ground conditions, some high-end custom builders will insist on a geotechnical investigation (soil report), which identifies the property's specific soil conditions. Oftentimes, the soil report will recommend a shell strength that far exceeds what some pool builders might otherwise provide. However, the soil report can also be very favorable and actually save the client money by recommending the basic strength shell. While these tests add to the initial cost, they are an important part of building a pool that will last a lifetime.
The materials selection process is limited only by the designer's resourcefulness and knowledge and the ability of the materials to match the suited purpose. Expect the pool builder to have a wide range of options available for each customer's budget and preferences. If only imported tiles from Italy will do, you can count on a luxury pool builder to get them for you (provided they are of sufficient strength to meet the suited purpose).

A Comprehensive Plan

Leading pool designers act as aquatic architects, usually operating under a contract for the completion of a construction package, rather than a site plan. The difference? A site plan shows the location of the property's boundaries, its structures and the proposed pool and equipment pad. It is accompanied by a listing of the plumbing sizes, pump horsepower(s), filter type and size and standard engineering specifications.

In contrast, a construction package is significantly more robust and routinely includes a soil report, a site map, topographical maps for sloping properties, a scaled drawing of the pool and/or spa with cross sectional drawings, plumbing and electrical schematics, a scaled drawing of the equipment pad, equipment specifications, hydraulic calculations (which determine pipe, filter and pump sizes) and construction specifications and guidelines outlining how each step, process or operation will occur. The pool designer forwards the above documents to a structural engineer to review and to determine the structure's skeletal design and strength.
In short, every base is covered, and nothing is left to chance. Is this typical? Hardly, since only a small percentage of pool builders have customers who want to reach for the stars. Remember, you get what you pay for.

Equipment Selection

In most situations without the benefit of a high-end custom pool builder the majority of equipment is selected for you without any explanation. To keep costs down, it is common to have one large pump with enough horsepower to power spa jets, water features, and, if needed, the pool cleaner as well. While this is likely to save you money in extra pumps and plumbing initially, the efficiency of each system may be drastically reduced, increasing annual operating costs for electricity.
The more a top-notch builder is involved, the greater the likelihood that he or she will select a dedicated pump for each major requirement. For example, the pool cleaner will utilize a booster pump and any substantial water features will have their own pumps and filters. Since reserve horsepower is not required to operate these features, a smaller filter pump (which runs more frequently) will be utilized, resulting in significant savings in energy over the life of the pool. Smaller pumps devoted to specific tasks also keep noise to a minimum.

Do you want to make all of your pool's amenities operable from inside your home, from a telephone or from a computer? With a fine pool builder, integrating automated controls is easy. Remember, in many cases you are paying for experience, so these types of requests are considered standard.

Construction Practices

Concrete Application. A critical part of pool construction in every concrete pool is the application of the concrete, especially when gunite (mixed on site) is used. The consistency of the mixture and the amount that is applied is a determining factor of the pool's strength and longevity. Not every pool builder requires a company employee to supervise the process, but without supervision it is unknown if the engineer's specified ratios of cement or shell thickness are being maintained.

During the application, some of the concrete will not adhere to the surface being sprayed and will fall to the bottom of the pool. This waste is called rebound and should be removed from the project site or raked out as a sub-base for the pool decks. However, cost-focused builders use it to fill in steps, benches and other contoured areas. This is significant because rebound is not applied under pneumatic pressure, resulting in air pockets, which later may settle, crumble, crack or cause leaks. The reduced concrete expenses and disposal charges will cost you more in the long run. Again, you get what you pay for.

Plastering. The mixing and coloring of the plaster is another important part of construction. In addition to ensuring that a consistent color is achieved, a luxury pool builder will insist on allowing the plaster to set naturally. Pool builders who cherish low contract prices often add calcium to the mixture to speed its setting so that the final troweling (smoothing of the plaster) can be completed in less time. Though it shortens the length of the plaster application process, the calcium can cause "hot spots" in the plaster, which leach out of the surface as small white crystals and cause discoloration in colored finishes.

Equipment Placement. Traditionally, builders place the equipment as close to the pool as possible to minimize electrical and plumbing runs. When space is not a restriction, high-end builders place equipment where it is the least obtrusive and where sounds will be less likely to carry to bedrooms or entertaining areas. Some pool builders will even employ an underground vault to maximize the usable space and to further minimize any noise.

Decking and Accessories. Most luxury pool builders relish the opportunity to design and install the pool deck, rather than have a separate contractor complete the task. This increases the likelihood that a more integrated look will be achieved. Special attention is given to drainage, which ensures that water does not sheet off of the deck causing soil expansion and possible deck heaving.

Design-oriented pool builders also tend to work with landscape architects, as well as lighting consultants, to achieve total-package effects. To them, pools do not stand alone; they act as centerpieces that should be set off by their surroundings. Subtle yet important architectural details, such as glass or screened enclosures, hidden automatic pool covers, attractive umbrella, volleyball or basketball sleeves, camouflaged drains and skimmer lids and recessed spaside remotes, are rarely overlooked.

The Bottom Line

It is hardly a surprise that few pool builders observe all of the planning, construction and project management standards described above. After all, the top Mercedes-Benz model accounts for only a tiny slice of automobile sales, and Rolls-Royce's and Bentley's shares can only be described as slivers.

It would certainly be a mistake for most prospective pool owners to expect these standards, since both the standards and the resulting price tags represent the pinnacle, not the midpoint.

Before you decide how much you are willing to invest in your new aquascape, consider the various intricacies of pool building and how different skill levels, techniques, business practices and materials can affect the final dollar amount on your contract. In the end, you are not paying for a pool—you are paying for a pool builder who can and will give you exactly what you want— and can afford.
© Copyright 2005 Luxury Pools Magazine. All rights reserved.