Lighting the Way
By Paolo Benedetti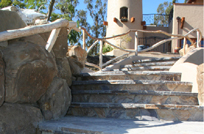 As I mentioned in the first of this series of articles, I initially became involved with the art of concealment when a client showed me an interior room's lighting system that was activated by touching a kickplate hidden in the floor moldings. It was one of the coolest things I'd ever seen (or not seen) and set me off on a career-long pursuit of details that let me hide the uglies.
What this means is that I now do all I can to avoid intruding on the visual consistency of the spaces I'm designing and building. One of the key areas in which this task is both important and difficult takes us full circle and back to lighting - specifically to the measures I take to hide sources of illumination when they are not in use.
I dealt previously with in-pool lights, mentioning some flexible approaches to making them fade into the field of surrounding material when they're turned off. This time - and in the last of this long sequence of features - I will discuss lighting around watershapes and what it specifically takes to light steps, which I consider (from a liability standpoint if no other) to be the most important fixtures in any given setting.
Creative Solutions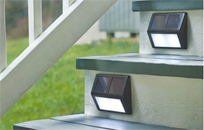 I don't know too many people who think that standard, building-center approaches to step lighting are inherently beautiful (Figures 1 & 2). The fixtures are generally cumbersome, tend toward inefficiency when it comes to putting light where you really want it and generally suffer disastrously when exposed to the elements for the long haul.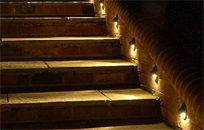 So why are they used? Is it because they're easy to find in stores and come in boxes you can pull off a shelf? Is it because they are easily damaged, so you can generate repair income? Is it because they eventually rust and corrode, so you can make money replacing them? Or is it because they take no thought at all and speed you on to the next task on your punch list?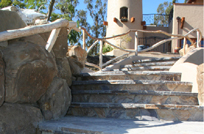 Whatever the reasoning, the fact of the matter is that those issues are all beside the point: You have many options when it comes to hiding light sources so that they are virtually undetectable by day and offer subtle solutions to the lighting challenge by night.
You can, for example, hide rope lights behind a slightly cantilevered step's overhang (Figures 3 & 4). Or you can hide them on the undersides of railings, either at the side or down the middle of a stairway (Figure 5). In both of these cases, any source of light is not visible during the day; at night, they cast soft, even light right where it needs to be to help homeowners and guests confidently, safely navigate from one level to the next.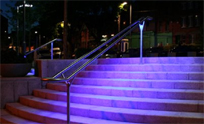 Other solutions are possible as well, and I've found that it generally helps to think in terms of indirect lighting - that is, of washing surfaces with light while hiding whatever bulbs, tubes, LEDs or whatever other lighting type you select for the job. It's just not that hard to do!
Happily, that's true of the majority of the concealing details I've defined in these articles: Hiding sources of illumination is largely a matter of thinking things through at the design stage and setting these details up as required. On that level, step lighting is just another one of the many design elements that should never be an afterthought and should instead become a further study in the fine art of concealment.