Options for Today's Fine Homes - Good Vibrations

Good Vibrations

Underwater sound systems and speakers are creating a pulse in residential pool construction. Here's what you need to know about this emerging trend.
By Shabnam Mogharabi

February 27, 2004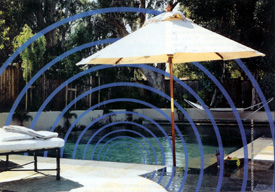 icrosoft Corp. CEO Bill Gates installed one in his Medina, Wash., mansion. Actor Russell Crowe special-ordered a set for his pool Down Under.
They are underwater sound systems. However, they are no longer a luxury afforded only by the likes of corporate giants and celebrities. "Homeowners are becoming better-traveled and more sophisticated, and that inevitably has a trickledown effect," says Skip Phillips, owner of Questar Pools & Spas in Escondido, Calif., and co-founder of Genesis 3, a design group based in Murfrees-boro, Tenn.
High-end pool designers such as Phillips say this feature has been growing in popularity over the past two years, especially in high- to mid-range pool construction. Still, despite numerous applications and easy installation, the growth of underwater sound systems is hindered by an industrywide skepticism and lack of knowledge about their value.
"Some people will see value in it, while others won't," Phillips says. "It's hard to read in terms of who would buy it and who wouldn't. It's not something we would actively market on each and every vessel be. cause it's something that is so specialized."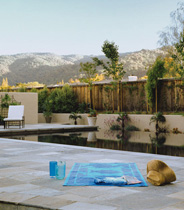 However, new advances in sound technology offer pool contractors the potential of a new area of expertise. "We have a lot of clients who are interested in vanishing-edge pools, glass tile pools and fiberoptic lighting," says Lawrence Stoen, sales manager at Lake Worth, Fla.-based Hackl Pool Construction Co., which only recently entered the underwater sound market. Company President Doug Hackl was initially unimpressed with the quality of underwater speakers.
"This seems to be the next new toy for the high-end market," Stoen says. "It gives these clients an edge over their neighbor."
What is it?
Underwater technology is based on one key principle: Sound travels about five times faster in water than in air. Closely knit water molecules need less displacement to transfer sound.
Following its initial debut, the underwater sound system generally was considered a specialized, luxury feature. Its use was restricted to institutional arenas, such as space training, naval research and synchronized swimming.
Today, manufacturers say the market has evolved, but contractors and designers haven't caught onto the new demand.
"A lot of times, in the home market, the person who's having the pool built will do the legwork and tell the contractor, 'Contact these guys and get these speakers,'" says one Ohio manufacturer. "Considering the number of pool contractors out them, they just don't know that underwater sound is an option and that people want it."
Many pool designers and builders agree. "We load the pools up with everything, and sound had never been something we discussed," says Paul Benedetti, vice president of operations at Aquatic Technology Pool & Spa in Morgan Hill, Calif.

"But about two years ago, one of the high-end travel magazines had an article about resorts like Four Seasons [that] were starting to install sound, and one of my clients brought it up with me. "It tends to be clients who are over the top with their entertaining or who want it for the functionality of swimming laps," Benedetti adds. "But now I include it on my checklist of items I want to address with the client."
For people who participate in home exercise, lap swimming can be boring and tedious, according to a Colorado manufacturer. "When you can keep cadence with music just like a jogger, you can time yourself and do exercise," he says. In the last couple of years, he has seen a hundredfold increase in the number of orders he receives for tactile sound-based speakers.
For people who participate in home exercise, lap swimming can be boring and tedious, according to a Colorado manufacturer. "When you can keep cadence with music just like a jogger, you can time yourself and do exercise," he says. In the last couple of years, he has seen a hundredfold increase in the number of orders he receives for tactile sound-based speakers.
He and other manufacturers have seen underwater sound used in many venues. "The newest market we've had is people who want to listen to the news or music while they're swimming in place in the endless pools," says another manufacturer.
The feedback
Despite this growth, some builders are skeptical about the value of installing an underwater sound system. "I haven't had anyone call me yet to say it's falling apart or that they hate it, but I haven't had anyone say they love it either," says Brian Van Bower, president of Aquatic Consultants Inc., a Miami pool/spa design and consulting firm.
His company has installed several sound systems over the past five years, both in pools and spas. Underwater sound is slow to spread industrywide, says Van Bower, who is also president of Genesis 3.
"I don't want to say it's a big trend because I can't say we've had an onslaught of people asking for it," Van Bower says. "Sometimes I find that things have to become commonplace for people to want them, and I don't think underwater speakers have done that yet. Maybe not enough people know about speakers."
Those who have installed the system say that when feedback comes, it's generally positive. "One client who has it operating just loves it," Benedetti says. "He told me, 'We're entertaining a lot; we want to use the pool morn for exercise and now we're able to listen to music while we're out here.'
Installation made easy
Regardless of your opinion regarding the merits of underwater sound, more designers and builders are boosting their bottom lines with the product. In fact, installation has become more simple and affordable. The dealer price for an underwater speaker ranges from approximately $350 to $1,500 for each one, depending on the quality and features. With a retail margin of about 50 points, builders can expect to gross the equivalent of a 40 percent markup on each unit.
The costs are cushioned by the ease with which the product is installed. For renovations, most manufacturers offer a drop-in speaker that requires a power cord and is easily portable.
New-pool construction requires building a niche for the speaker. Similar to a standard light fixture, an underwater speaker requires a shell and conduit. "The key is that you have to do installation either during the renovation of a pool or prior to gunite because after gunite it's cost-preventative," Benedetti explains.
"You have to make a niche in the wall, and a niche after the fact entails digging a big hole that can affect the structural integrity of the pool."
Benedetti, who finds that one speaker is sufficient for pools up to 1,000 square feet in size, says installation is far simpler than for other high-end features. With fiberoptic lighting, for example, a hole about 1- or 2 inches thick must be carved around the area of the entire pool, whereas with speakers, a standard light niche placed at a slightly lower depth is sufficient.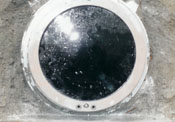 Not just for lights: Speakers such as those shown here are easy to install, required a standard light niche, shell and conduit to achieve sound.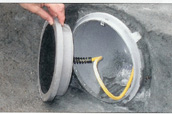 Once the niche is constructed, mounting and positioning the speaker can take less than an hour. To complete the sound system, manufacturers and builders recommend that an isolation transformer and a circuit breaker (that is, ground fault circuit interrupter or GFCI) be installed in conjunction with any piezoelectric speakers used.
For renovations or new-pool construction, it's assumed that the client has an existing sound system to which the speakers can be connected.
Many builders also recommend installing "floating" sound systems. Underwater speakers are used in conjunction with outdoor ones placed in planters and walls to make music available above and below water.
Keep in mind that bass frequencies are difficult to discern when speakers are set too close to the surface, so placement and pool size are critical issues when installing the system. Manufacturers can be good sources of information regarding the number of speakers to install for u specific pool.
"If you follow directions, you shouldn't have any problems," Phillips says. His company recently installed four speakers in a 2,500-square-foot salt system. "On bigger projects, it's all computer-driven, so you have to work with sound and light people. People who do this kind of thing often have sophisticated sound systems."
Still, Phillips remains ambivalent about the promise of underwater sound. In fact, a client whom he felt sure would want an underwater sound system decided not to opt for the feature, even though she was a former Olympic silver medalist in synchronized swimming.
"Most of our clients are looking for visual elements," Phillips says. "Clients want their pools to be structurally sound, hydraulically superior and visually appealing, but they're not utilitarian users. It depends on the client."
Tips of the trade
It's important to ask the right questions about underwater sound systems. Most manufacturers recommend keeping the following tips in mind when researching and installing underwater speakers:
Determine how many and which type of speaker--whether moving coil or piezoelectric--best fulfills the needs of the client.
Talk to the manufacturer about how many speakers he or she recommends installing. Residential pools typically need one or two speakers at most.
Ask for a frequency response plot and sound pressure level (SPL) plot. Keep in mind, a wide-level response is needed for pleasant sound, and frequencies below 200 Hz can cause swimmer disorientation.
Speaker placement should be at a depth of approximately 6 feet for proper acoustical performance.
Use corrosion-resistant metal, such as brass or stainless steel, to construct the speaker's forming shell.
Hire a licensed electrician to install and wire the system, following the bonding and grounding rules in NEC Article 680.
Amplifiers must be UL-listed and attached by power cord to a circuit breaker, aka GFCI. Keep in mind, a dedicated isolation transformer is necessary for each piezoelectric speaker installed.
Use a calibrated hydrophone, which is basically an underwater microphone, to measure sound quality and quantity, if necessary.--S.M.