Dream Home Editorial Article
We're here to help! Simply call 1-800-447-0027
---
Innovative New Swimming Pool and Spa Designs for Your New Dream Home Swimming pools and spas are riding a high-style wave, swept along by myriad new design ideas and technological advances. Increased travel plays a major role. "When people see elaborate hotel pools with impressive water features, they come home wanting to create that resort-like drama in their own backyards," says Paul Benedetti, principal of Aquatic Technology Pool & Spa, Morgan Hill, California. "Costs for doing that used to be prohibitive, but as the production technology becomes more streamlined, the prices of dramatic effects are coming down to reasonable levels."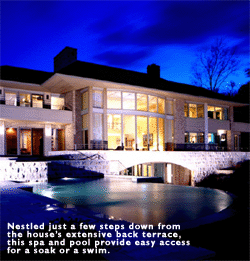 David Thompson, CEO of Swimming Pool Services, Waukesha, Wisconsin, agrees. "Visual aspects are becoming a lot more important, especially moving-water features like fountains, waterfalls and spraying jets." Installation costs for these features vary widely, although Thompson notes that jets out of the pool wall are among the more economical.
One of the fastest-growing trends in pool design is the infinity-edge, also known as the vanishing edge or disappearing edge. Constructed so that water flows over one or more sides into a catch basin and is then re-circulated back into the pool, these pools can create the illusion of being partially suspended in space.
Another strong trend is towards formality. "One of the most popular pool-area designs used to be the tropical oasis," says John Morrow, custom designer for Presidential Pools & Spas, Gilbert, Arizona. "Now a more formal, Old-World look is increasingly in demand. Picture a pool you might find in Tuscany, with water moving through lion's head fountains or trickling down narrow troughs as in an Italian garden."
Not every pool owner, however, demands drama. Another popular design trend is the naturalistic pool that looks more like a garden pond. The addition of poolside rocks and boulders, small bridges, and waterfalls - as well as the elimination of a diving board and ladders - all contribute to the naturalistic look.
Keeping your pool or spa sparkling is easier than ever thanks to what Thompson calls "huge advancements in automatic treatment." In-floor cleaning systems, for example, have small heads set flush in the pool bottom which then pop up and spray treated water across the floor and walls. Since the system works as the pool water circulates, it's more efficient and requires less chemicals.
Automatic pool sweepers have been around for decades, but today's programmed versions perform better than the random-pattern models. And with soaring energy bills, Thompson notes, "clients are very interested in energy efficiency, which has led to development of more efficient pumps and timers for heaters."
Another technology benefiting spa owners is cell phone-generated remote control, enabling them to turn on heaters via phone. "Suppose you're heading home from a long day at work or a dinner out," suggests Benedetti, "and you regret not turning on the spa heater before you left. You just phone in a pre-set code, and by the time you get home, the water's hot."
Finally, as pools and spas become more elaborate, so do pool houses, cabanas and gazebos. Here the trend is towards bigger and more functional. No longer just poolside changing rooms or spots to provide some shaded seating, these structures now house spacious entertainment areas, often including full kitchens
---
Buy Online or Call 1-800-447-0027


© Copyright 2008, Hanley Wood, LLC. All Rights Reserved